Community Service On-going Programs
Help us to give: – A New Sense of Hope
When Children Need It Most
Over and above our attention to serve any specific need that is identified to Help a Child in Need in the Baleares. We have as already mentioned the program to identify any specific "Build Project" to-date we have completed three such projects. In addition we also have a number of internal programs in process detailed herewith, that assist us on-going to assist the Children in Need.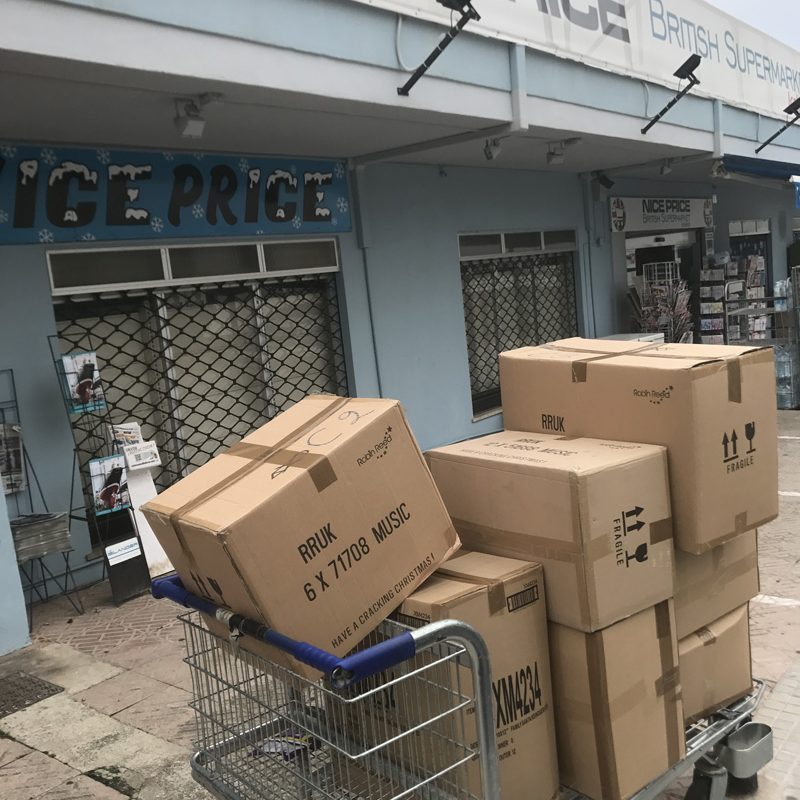 Collection of Children's Clothes and Toys
The collection of Children's QUALITY second hand Clothes and Toys has and still is an on-going program started some three years ago by our collaboration with Nice Price Supermarket. Nice Price supports the foundation by acting as a collection point for receiving from the general public and other charity associations, new and quality second hand children's clothes and toys. These items are checked sorted and repackaged into age groups by our volunteers and then distributed to various children's homes and individual children in need. It is estimated that on average in excess of 600 kilos of such items are distributed each year.
In addition to our initial collection point at Nice Price, we are now also able to receive such clothes and toys at our new JoyRon Centre located at Calle Asival 6, 07011, Palma located in Can Valero.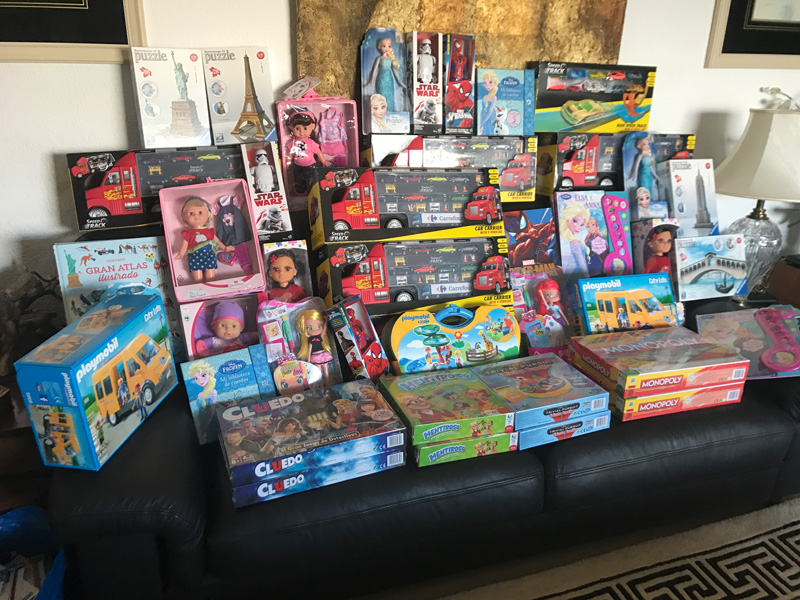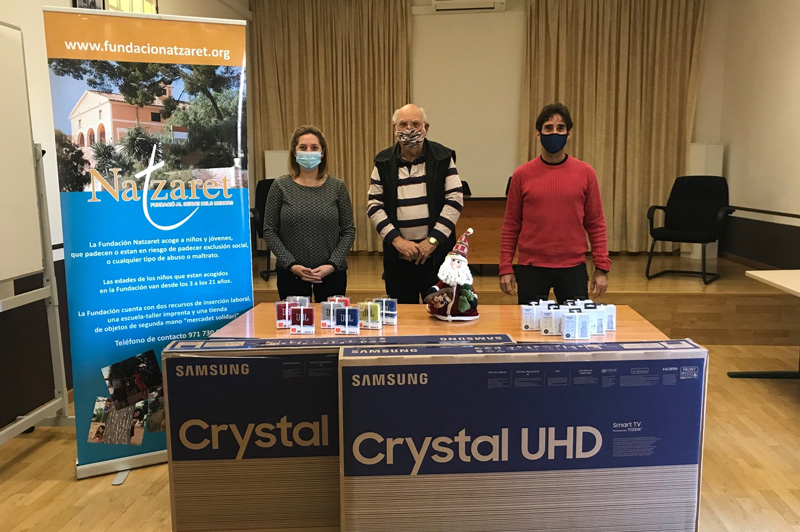 Gifts at Christmas and Three Kings
Every Year during the Christmas and Three Kings period, the Foundation together with its volunteers are busy collecting and purchasing gifts for the children in need, be they in a Children's Home, in Hospital or part of a family in need of support. Most years we have distributed some 300 plus presents each year.
For 2020/21 this was not so easy with Covid-19. Hence, we co-ordinated with some seventeen different Children's Homes on the island of Mallorca, caring for about 350 children and adolescents in total.
We purchased specific single large gifts that could be used and shared amongst the children and adolescents in each home. Such gifts included seven Sony Play Stations and two Nintendo Switches each together with two games for each, three smart tv's, sixteen personal music players, a colour printer and a full size table tennis table and accessories. In addition the foundation purchased six renovated bicycles, and as requested for one home eighteen individual personal presents.
All these were personally delivered to the front door of each of the homes. At least COVID-19 did not stop JoyRon Foundation from reaching out to the children in our Children's Homes during this Christmas and Three Kings period.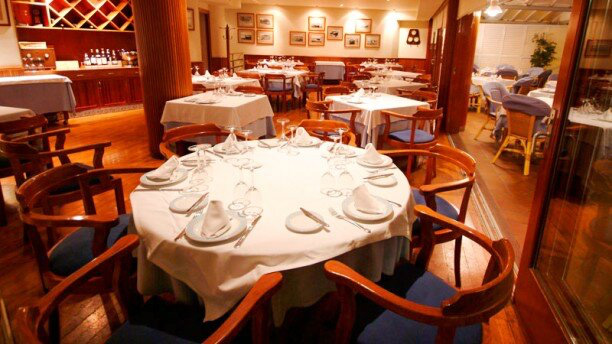 JoyRon Foundation Group in North Mallorca
The JoyRon Foundation has significantly grown since its inauguration, and now has come the time for the Foundation to have some representative teams in place throughout the Balearics. Just as Covid-19 commenced we had planned to open the first team in North of Mallorca on March 17th 2020 to focus on the region and replicate much of the work already achieved in the south west of the island. However, our plans had to be delayed until now. Hence we plan to very shortly announce to have an inauguration lunch in Port de Alcudia.
To be followed thereafter by regular lunches as frequently as deemed appropriate by the attendees. It is intended that the lunches will be attended by a number of committed company owners, managers and private people who have a strong desire to network and build in the North of Mallorca under the umbrella of JoyRon Foundation, an extension of the work already undertaken within the foundation in the South West of the island. Once we are able to commence these proposed lunches, please feel free to join one of our lunch events as a guest where you will receive more information and sign up as one of our volunteers or company sponsors.
Please contact our JoyRon responsible person in the North to book your seat or if you have questions:
Victoria Mogildea Aguirre email: victoria@bienestar-architecture.com phone: +34 666 726 989
Grant a Wish Program
The Foundation has in place a "Grant a Wish" program for Children in Need. A couple of examples of such wishes that we have undertaken are as follows.
Under our "Grant a Wish" program we identified a young Spanish boy Carlos Franco a seriously ill child with an inoperable and incurable  brain tumour. His wish was to visit Euro Disneyland Paris. So JoyRon Foundation organised flights, transfer to and from airport to Euro Disney, plus accommodation in the EuroDisney Park, including entrance to the park areas and all food  for a five day stay for Carlos plus his mother and father.
A further example of our "Grant a Wish" program in operation was when we were requested to finance the expense of sending a young Spanish boy Andre, almost deaf and extremely poorly sighted to attend a specialised week's summer camp in Barcelona with his mother and carer, so that he could experience the ability of socialising with others and having some fun.
Children Helping Children in Need Program
The foundation has also designed and implemented an internal program that encourages Children helping Children in Need. Inter-acting and working with a number of schools in Mallorca, developing the awareness of local children in need and thereby encouraging the schools and their pupils to be aware of and thereby further their charitable support for those children who are less fortunate and in need.
OUR CHILDREN OF TO-DAY ARE OUR VOLUNTEERS OF TOMORROW.